Sparsely distributed in the area in grassy and scrubby hillsides; flowers from the end of September to mid-October. Mimmo Rossi has found flowering specimens as late as the beginning November near Mercatello sul Metauro.
Alessandro Camilletti found the species on Mount Conero (AN) in 2012.
Recorded by Brignoli for the Dipartimento del Metauro in 1813.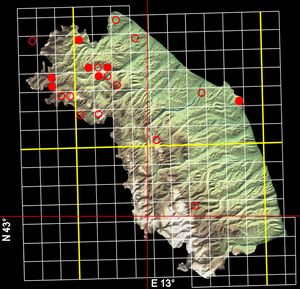 Map: open dots are records before 2000, solid dots are records since 2000.
Literature
-BAGLI, L. (1990), "Aspetti naturalistici dell'area di sperimentazione Abbazia del Moscolo - Santa Lucia", in Quaderni di scienze della terra, pp. 55-66, Cattolica (p.59).
-BRIGNOLI, G. (1813), "Elenco delle piante spontanee" in Alcuni Cenni Sulle Produzioni Naturali del Dipartimento del Metauro, Urbino (p.38).
-BRILLI-CATTARINI, A.J.B. (1957), "Rinvenimenti floristici marchigiani. Seconda serie.", in Nuovo Giornale Botanico Italiano, pp. 117-41, Firenze (p.125).
-CENTRO RICERCHE FLORISTICHE MARCHE (1982), Flora del Massiccio Centrale del Gruppo del Monte Catria, (inedito Pesaro), (p.46).
-CRESCENTINI, R. & J.M.I. KLAVER, Orchidee Spontanee della Provincia Peasro e Urbino, con osservazioni sulle specie delle Marche, Pesaro, 1997 (p.248).
-GUBELLINI, L. (1990), "Flora e vegetazione dei Monti del Furlo", in I Monti del Furlo, pp. 37-88, Regione Marche (p.52, 75).
-KLAVER, J.M.I., "Distribution of the Orchidaceae of the Province Pesaro-Urbino (Central-East Italy)", AHO Baden-Württemberg 23 (4), 1991, pp.557-747 (p.619).
-KLAVER J.M.I. & ROSSI, D. (2011): Contributo alla conoscenza delle Orchidee 602 Journal Europäischer Orchideen 43(3): 2011. della Provincia di Pesaro e Urbino.- GIROS Notizie 46: 30-36.
-PAOLUCCI, L. (1890-1), Flora Marchigiana, Pesaro (p.111).