Rare. In dry stony/grassy places (altitude m. 300-750); flowers from the beginning of April to the beginning of May. Found for the first time in the Marche in 1988 on M. Pietralata (J.M.I. Klaver). A dozen new populations and single specimens have since been recorded in the Province of Pesaro-Urbino, as well as some sporadic appearances in the Province of Macerata. A.J.B. Brilli-Cattarini found Ophrys crabronifera near Valgiubbola (AN) in 1992.
Leonardo Gubellini has recently found the species near Fossombrone.
I found one specimen in bud at San Lazzaro near Fossombrone on 2 April 2010 (and flowering 7/4/2010). This site is about 3km from Gubellini's site (Domenico Rossi found a second plant a week later). The first plant flowered again in 2011, but it failed to flower in 2012.
I also found a flowering specimen near S. Anna on 26 April 2010, and a withered plant 1km north of Piobbico on 11 May 2010.
Klara and Martin Huelsmann found the species in the Gola del Furlo in 2012. They also found it in Val Canale, and half-way the road thta goes from Serra S. Abbondio to Isola di Fossara.
In 2012 Rolando Romolini pointed out a small population of vigorous plants at Fosso di Montiego (Piobbico), a site which was also noted by Klara and Martin Huelsmann. These plants flowered also in 2013.
A tour with Nazzareno Simoncelli and Mimmo Rossi on Monte l'Abate in 2012 revealed that the species is present in various spots all over the area of Piobbico. Thus I found numerous individuals of the species in 2013 near Balza della Penna and a few plants on the lower Eastern slopes of Monte di Montiego.
I also found the species with Mimmo Rossi near Morello (AN) on 3 May 2013.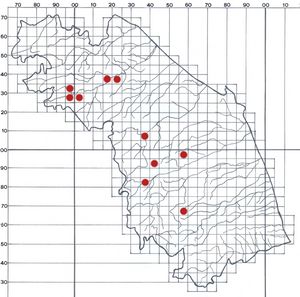 Regrettably all specimens in the original sites on M. Pietralata (from which most of these pictures have been taken) have disappeared, the probable cause being the destruction of habitats by wild boars.
Literature:
-BAGLI, L. (1990), "Aspetti naturalistici dell'area di sperimentazione Abbazia del Moscolo - Santa Lucia", in Quaderni di scienze della terra, pp. 55-66, Cattolica (p.59).
-CRESCENTINI, R. & J.M.I. KLAVER, Orchidee Spontanee della Provincia Peasro e Urbino, con osservazioni sulle specie delle Marche, Pesaro, 1997 (p.144).
-KLAVER, J.M.I. (1989), "Ophrys crabronifera MAURI in der italienischen Marche (mittleres Ostitalien)", Die Orchidee, 40(2): 55-56 (p.55).
-KLAVER, J.M.I., "Distribution of the Orchidaceae of the Province Pesaro-Urbino (Central-East Italy)", AHO Baden-Württemberg 23 (4), 1991, pp.557-747 (p.602).