Rare in scrubby places, mainly along the coast. Mentioned in Paolucci's Flora Marchigiana (1890-1), recent records concern populations on M. Conero. In the Province of Pesaro-Urbino it has not been found since 1975, when A.J.B. Brilli-Cattarini encountered a few specimens on the Cesane near Urbino.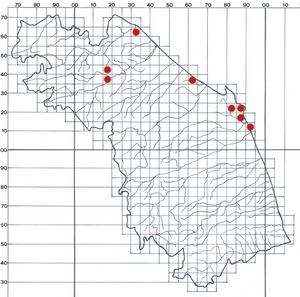 Literature:
-BAGLI, L. (1990), "Aspetti naturalistici dell'area di sperimentazione Abbazia del Moscolo - Santa Lucia", in Quaderni di scienze della terra, pp. 55-66, Cattolica (p.59).
-BRILLI-CATTARINI, A.J.B. (1957), "Rinvenimenti floristici marchigiani. Seconda serie.", in Nuovo Giornale Botanico Italiano, pp. 117-41, Firenze (p.123).
-CRESCENTINI, R. & J.M.I. KLAVER, Orchidee Spontanee della Provincia Peasro e Urbino, con osservazioni sulle specie delle Marche, Pesaro, 1997 (p.140).
-GUBELLINI, L. (1990), "Flora e vegetazione dei Monti del Furlo", in I Monti del Furlo, pp. 37-88, Regione Marche (p.75).
-KLAVER, J.M.I., "Distribution of the Orchidaceae of the Province Pesaro-Urbino (Central-East Italy)", AHO Baden-Württemberg 23 (4), 1991, pp.557-747 (p.602)
-PAOLUCCI, L. (1890-1), Flora Marchigiana, Pesaro (p.120).