This new variety was described from specimens found on M. Pietralata near Fermignano at the end of May 2010.
The variety is similar to the nominal species except that its speculum is in the shape of a molar which is of a brownish-purple colour with a white margin. The red-brown basal area is absent. The petals are long and narrow, half the length of the sepals, and are often speckled with brown.
Rare. A small population only was found in grassy places with Quercus pubescens and Spartium junceum (altitude m. 350) in the vicinity of Fermignano; flowers the second half of May.
The variety was validly published in GIROS Notizie 45 (see below).
Katia Barbieri e Luana Barbieri found the variety near Torrita di Siena on 5-6 June 2013. This is the first find of this variety outside the locus classicus.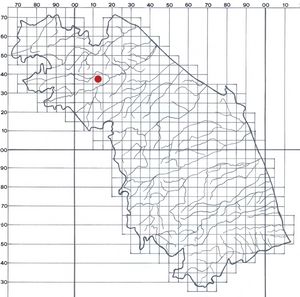 Literature:
-KLAVER, J.M.I. (2010), "Ophrys apifera var. laetitiae J.M.I. Klaver, var. nov.: una nuova varietà dell'ofride fior d'ape rinvenuta nelle Marche", in GIROS Notizizie 45, pp. 16-20.
-BARBIERI, C. (2013), "Ophrys apifera var. laetitiae" - http://www.giros.it/forum/viewtopic.php?f=4&t=2022