Very rare plant, sparsely distributed. Recorded by Scagnetti for the Pesaro area in 1890 (in Paolucci), and in the late 1930s by A.J.B. Brilli-Cattarini for M. Catria and M. Paganuccio. Brilli-Cattarini also found it on M. Conero, in the Arcevia-Murano area in the early the 1960s, and near Gelagna Bassa in 1981. More recently, it was found by Franco Barbadoro on M. Catria in 1992, while I found it, in the same year, near Fossato di Vico.
I found a small flowering plant measuring 6.5 cm in a dry scrubby hillside on the Cesane near Urbino on 28 April 2010. This is the first record for the surroundings of Urbino and is about 10-12km from A.J.B. Brilli-Cattarini's 1930s site. Careful searching of the area did not reveal further specimens.
An unexpected site was found on M. di Montiego on 11 May 2010. At least 50 plants were counted here in an open pine wood at about 700m.
Franco Barbadoro has confirmed that the population on M. Catria is still present in 2010 (see photos below).
The species is re-confirmed also for 2011 for the Cesane (the same single plant), and for M. Catria (two small populations - below here with Orchis provincialis - where Barbadoro has found specimens in the past), but not for M. di Montiego.
I found 9 plants on M. Valenella (PU) on 12 May 2011.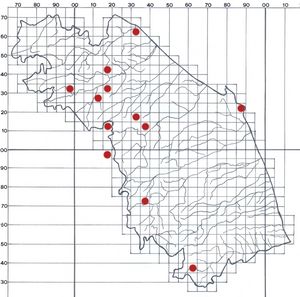 Literature:
-BRILLI-CATTARINI, A.J.B. & S. BALLELLI (1979), "Segnalazione di piante nuove,inedite o notevoli per la regione marchigiana IV", in Giornale Botanico Italiano, pp. 327-358, Firenze (p.353).
-CENTRO RICERCHE FLORISTICHE MARCHE (1982), Flora del Massiccio Centrale del Gruppo del Monte Catria, (inedito Pesaro), (p.46).
-CRESCENTINI, R. & J.M.I. KLAVER, Orchidee Spontanee della Provincia Peasro e Urbino, con osservazioni sulle specie delle Marche, Pesaro, 1997 (p.120).
-GUBELLINI, L. (1990), "Flora e vegetazione dei Monti del Furlo", in I Monti del Furlo, pp. 37-88, Regione Marche (p.53,p.75).
-KLAVER, J.M.I., "Distribution of the Orchidaceae of the Province Pesaro-Urbino (Central-East Italy)", AHO Baden-Württemberg 23 (4), 1991, pp.557-747 (p.601)
-PAOLUCCI, L. (1890-1), Flora Marchigiana, Pesaro (p.116).