Frequency: not common.
Flowers: from May to June.
Habitat: in hillside grasslands and grassy roadside banks from 300 to 1000m.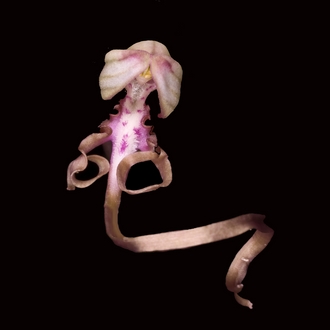 Distribution: PS, AN, MC, FM, AP. Older records mainly indicate the north of the Province of Pesaro-Urbino around M. Carpegna for this species. Of recent years it has also increasingly been found in the Urbino -Fermignano area. First recorded by Brignoli in 1813 for the Dipartimento del Metauro and by Federici for Urbino in 1853 (in Bertoloni).
Map: open dots indicate finds prior to 2000, solid dots indicate finds after 2000.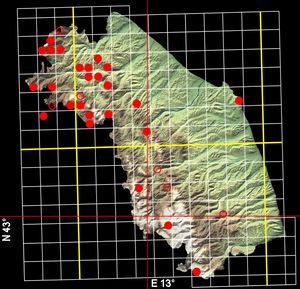 Distribution map data: Historical data in KLAVER 1991;
A.J.B. Brilli-Cattarini (private communication); private unpublished finds. Post-2000 records in KLAVER 2011 (including finds by Franco Barbadoro, Domenico Rossi, Nazzareno Simoncelli, and Marco Zandri); in BENIGNI & FABRIZI 2009; private communication: Franco Paolinelli found the species near Portonovo (AN) in 2010; Giovanni Cosoli reported numerous plants above Spelongo (AP) and from Colle (AP) in 2011.
Note: Himantoglossum adriaticum is listed in Annex II of the FFH-Directive 92/43/EEC (see KLAVER 2011).
Literature:
-BENIGNI, F., FABRIZI, Metella (2009), "Himantoglossum adriaticum H. Baumann, una nuova stazione in provincia di Ancona (Marche, Italia Centrale)", GIROS Notizie 41, p.33.
-BRIGNOLI, G. (1813), "Elenco delle piante spontanee" in Alcuni Cenni Sulle Produzioni Naturali del Dipartimento del Metauro, Urbino (p.38).
-BERTOLONI, A. (1853), Flora Italica, vol. 9, Bologna (p.569).
-CRESCENTINI, R. & J.M.I. KLAVER, Orchidee Spontanee della Provincia Pesaro e Urbino, con osservazioni sulle specie delle Marche, Pesaro, 1997 (p.108).
-KLAVER, J.M.I., "Distribution of the Orchidaceae of the Province Pesaro-Urbino (Central-East Italy)", AHO Baden-Württemberg 23 (4), 1991, pp.557-747 (p.600)
-KLAVER, J.M.I., "Himantoglossum adriaticum H. Baumann in Central-East Italy (Pesaro-Urbino, Marche) and FFH-Directive 92/43/EEC", J. Eur. Orch. 43 (3), 2011, pp.590-602.
-PAOLUCCI, L. (1890-1), Flora Marchigiana, Pesaro (p.114).
-SERPIERI, A. (1867), "Erborizzazione al Monte Catria (eseguita da R. Piccinini, piante trovate fiorite nel dė 11 giugno 1866)", in Bullettino Metereologico di Urbino, fascicolo I, anno 1866, pp. 49-52, Urbino (p.38).
-SERPIERI, A. & A. FEDERICI (1868), "Saggio di una flora dell'agro Urbinate ed epoca della fioritura di molte piante. Centuria I, II, III, IV, V", in Bullettino Metereologico di Urbino, fascicolo II, anno 1867, pp. 32-38, 48-56, Urbino (p.51).
-ZANGHERI, P. (1966), Flora e vegetazione del medio ed alto Appennino Romagnolo, Forlė (p.81).