Sparsely distributed in Apennine beechwoods from 500 to 1400m. Flowers from June to July. First recorded for Pesaro-Urbino by Azzaroli in 1853 (in Bertoloni).
Alessandro Camiletti's recent record for M. Conero is of interest as the only site on the Adriatic coast.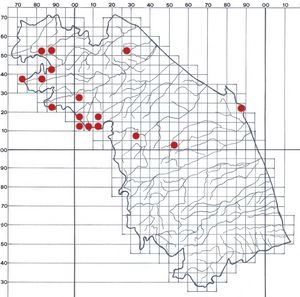 Literature:
-BERTOLONI, A. (1853), Flora Italica, vol. 9, Bologna (p.622).
-CENTRO RICERCHE FLORISTICHE MARCHE (1982), Flora del Massiccio Centrale del Gruppo del Monte Catria, (inedito Pesaro), (p.46).
-CRESCENTINI, R. & J.M.I. KLAVER, Orchidee Spontanee della Provincia Pesaro e Urbino, con osservazioni sulle specie delle Marche, Pesaro, 1997 (p.84).
-GUBELLINI, L. (1990), "Flora e vegetazione dei Monti del Furlo", in I Monti del Furlo, pp. 37-88, Regione Marche (p.52,70).
-KLAVER, J.M.I., "Distribution of the Orchidaceae of the Province Pesaro-Urbino (Central-East Italy)", AHO Baden-Württemberg 23 (4), 1991, pp.557-747 (p.597).
-PANDOLFI, M., D. UBALDI (1975), "Proposta di riserva naturale per la faggeta di Pianacquadio (Monte Carpegna Appennino Pesarese)", Gli aspetti naturali della provincia Pesaro e Urbino, pp.89-107, Prov. Pesaro-Urbino (p.91).
-PAOLUCCI, L. (1890-1), Flora Marchigiana, Pesaro (p.109-110).
-ZANGHERI, P. (1966), Flora e vegetazione del medio ed alto Appennino Romagnolo, Forlì (p.86).