Rare orchid in stony places in the mountains from 600 to 1200m; flowers from the end of June to mid July.
Known in the north from M. Nerone (PU) only. In the south of the Marche a number of sites are known. Aldo J.B. Brilli-Cattarini and Sandro Ballleli recorded it in 1979 for M. di Bolognola (MC). I found a population with numourous yellowish flowers on M. Rotondo (MC) in 2010. Giovanni Cosoli found fine specimens of the species near Castelsantangelo sul Nera (MC) and near Forca di Presta (AP) in 2011.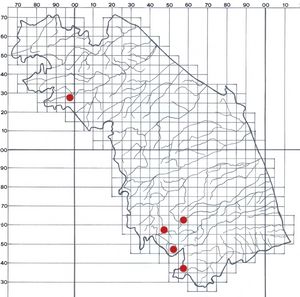 Literature:
-BRILLI-CATTARINI, A.J.B. & S. BALLELLI (1979), "Segnalazione di piante nuove,inedite o notevoli per la regione marchigiana IV", in Giornale Botanico Italiano, pp. 327-358, Firenze (p.353).
-CRESCENTINI, R. & J.M.I. KLAVER, Orchidee Spontanee della Provincia Pesaro e Urbino, con osservazioni sulle specie delle Marche, Pesaro, 1997 (p.72).
-KLAVER, J.M.I., "Distribution of the Orchidaceae of the Province Pesaro-Urbino (Central-East Italy)", AHO Baden-Württemberg 23 (4), 1991, pp.557-747 (p.594)