Rare and very local in occurence in wet or humid grassy places or pastures (generally in abundant populations) from 250 to 1015m from May to June. Known from only a handful of sites in the Marche: surroundings of Sestino (AR), on M. Catria, around Fossombrone, on M. Forno (MC). The species seems to have disappeared from the sites on the coast. First recorded for Pesaro-Urbino by Gasparini in 1853 (in Bertoloni).
2011: Nazzareno Simoncelli has reported the species for the vicinity of Cantiano (PU), and Franco Barbadoro for Serra S. Abbondio (PU). Both places contain only a few plants. The populations near Serravalle di Chienti (MC) have not changed much in the twenty years since I first saw them there in 1992.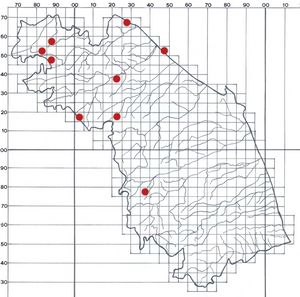 Literature:
-BERTOLONI, A. (1853), Flora Italica, vol. 9, Bologna (p.550).
-BRILLI-CATTARINI, A.J.B. (1957), "Rinvenimenti floristici marchigiani. Seconda serie.", in Nuovo Giornale Botanico Italiano, pp. 117-41, Firenze (p.124).
-CENGIA-SAMBO, M. (1929), "Contributo alla Flora vascolare dell'Urbinate", in Nuovo Giorn. Bot. Ital., 35(4):425-506 (p.445).
-CENTRO RICERCHE FLORISTICHE MARCHE (1982), Flora del Massiccio Centrale del Gruppo del Monte Catria, (inedito Pesaro), (p.47).
-CRESCENTINI, R. & J.M.I. KLAVER, Orchidee Spontanee della Provincia Pesaro e Urbino, con osservazioni sulle specie delle Marche, Pesaro, 1997 (p.174).
-KLAVER, J.M.I., "Distribution of the Orchidaceae of the Province Pesaro-Urbino (Central-East Italy)", AHO Baden-Württemberg 23 (4), 1991, pp.557-747 (p.612)
-PAOLUCCI, L. (1890-1), Flora Marchigiana, Pesaro (p.118).
-PINZI, M., "Orchis laxiflora", http://www.lavalledelmetauro.org/standard.php?lingua=it&id_sezione=21&id_sottosezione=10&record=1174 (updated 15.11.2009)
-SERPIERI, A. & A. FEDERICI (1868), "Saggio di una flora dell'agro Urbinate ed epoca della fioritura di molte piante. Centuria I, II, III, IV, V", in Bullettino Metereologico di Urbino, fascicolo II, anno 1867, pp. 32-38, 48-56, Urbino (p.36).
-ZANGHERI, P. (1966), Flora e vegetazione del medio ed alto Appennino Romagnolo, Forlì (p.82).